CeCe Caldwell's paints are 100% naturally green, people & earth friendly, and they're made in the USA! While many paints contain harsh chemicals like formaldehyde, ammonia, ethylene glycol and heavy metals, our paint is non-toxic, has zero odor, and is free of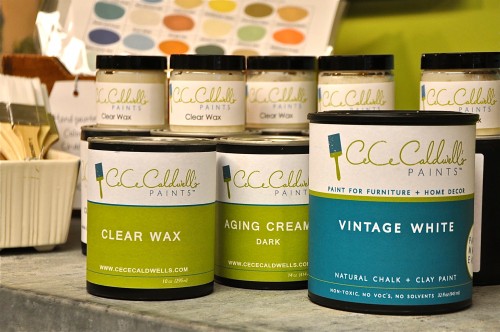 VOC's (volotile organic compounds). CeCe Caldwell paints contain only natural minerals; simply clay, porcelain clay, and chalk blended into a water-base solution. All of our products are packaged in recycled plastic containers.
Like our chalk + clay paint, our finishing wax has NO odor, is non-streaking, and is made from insect & plant sources. Our wax is non-petroleum based, and 100% natural. In addition to being better for you, your family & the environment, it goes on smoothly without any drag or streaking.
CeCe Caldwell's chalk + clay paint is available in 36 beautiful colors. Our color inspiration comes from coastal areas, mountains, deserts, cities & rural towns all across the nation. IT'S NATURALLY GREEN, IN THE COLOR OF YOUR CHOICE!
What's all the commotion over chalk + clay paint?
CeCe Caldwell Chalk + Clay Paint is self-priming. Superior adhesion means that most surfaces don't require a prep coat of primer prior to painting. One to two coats generally give complete coverage over virtually any surface, from wood and heavily coated surfaces to plastics and metals.
100% natural, water based formula makes painting techniques simple & fun. Our chalk + clay paint is used by professionals, DIYer's and first-time painters alike. Techniques like distressing, weathering, washing, liming, layering etc., are made simple with

chalk + clay paint

because of it's unique texture & versitility. Even better, all techniques can be achieved by simply using water. Your surface is 100% workable until you are ready to seal it with one of our natural sealers!
Our chalk + clay paint is odor free & contains no harsh chemicals. This means you can paint virtually anything…anywhere. From furniture revivial projects to entire rooms, you can feel confident that our natually sustainable paint will be free of harmful odors & safe for you, your family, and the environment.